Tripawds is a user-supported community. Thank you for your support!
Riley is now six days post surgery, and getting around very well on her own.  She was quite active yesterday, and moving around the house a fair amount.
Per a suggestion on this blog, I made her a snuffle mat and she has been having fun with it.  I really think this activity is good for her, as she is very excited when we give her the mat.  Sniffing out the buried kibble keeps her occupied for a while, and provides some mental stimulation.  Additionally, I took her out in the stroller today, so she got to experience a little more of the larger world.  This is a bicycle trailer that can also transport two toddlers.  Prior to her surgery, we had several outings in it so that she would be acclimated to the stroller.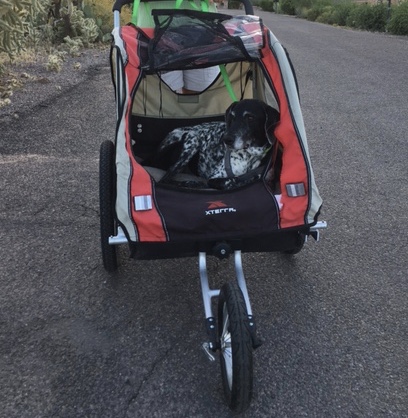 Her is a picture of Riley from last week, before her surgery.  She rides in the stroller like the queen she is!
Somehow, Riley has pulled out a staple.  I emailed a photo to the surgeon's office, and they aren't too worried, but advised us to keep it under observation.  The swelling in her remaining rear leg has gone down, and belly bruising is much diminished.  So, all in all, we are most pleased with her recovery.
Preliminary pathology report confirms cancer.  The lymph node was clear.  Yay!